Pomade: A Guide for Blokes Who Want Slick Hair
Every man deserves to have a little swagger in his step – knowing he's looking his best, without using harsh products that damage his crowning glory.
This comes down to using the right grooming tools for your hair type.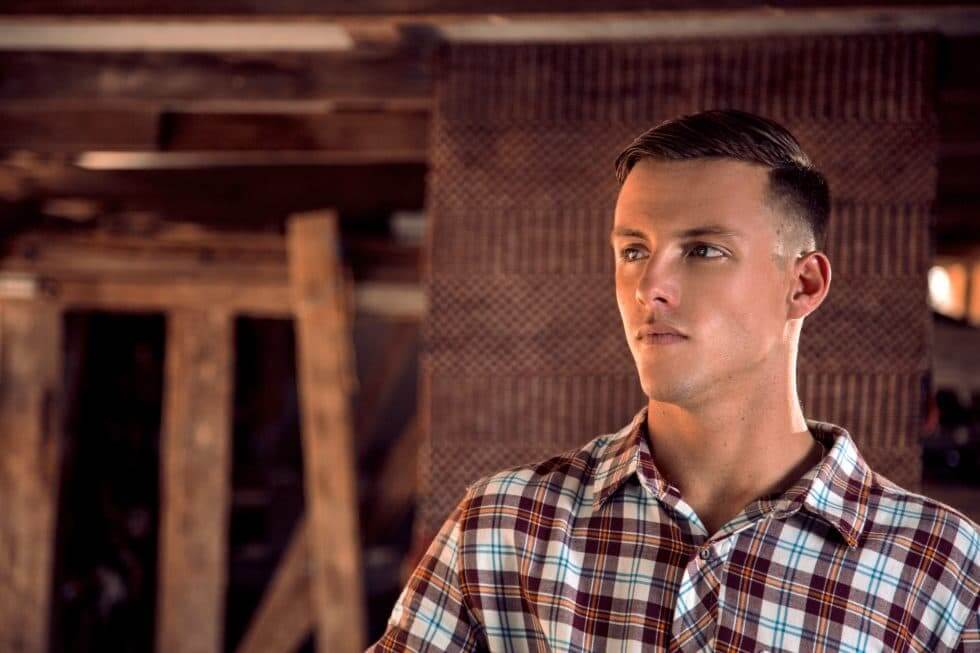 Pomade is a versatile hair styling product that creates different looks, depending on the amount you use and whether you're styling damp or dry hair. It's known for adding lustre and keeping every strand in place with flexible hold – well into the next day, if need be.
The best part: there's no alcohol, a drying ingredient typically found in hair gels.
You can choose from oil-based, water-based and clay pomades.
These can be shiny, neutral or matte; and the consistency typically feels "waxy" when rubbed between your fingers straight out of the tin. Do they all get the job done? You bet, but some are more suitable than others – depending on your hair texture, scalp health and desired style (classic, modern, natural or intricate).
All of this to consider, for a slick updo?
We know it's confusing for the average bloke to navigate, as there are loads of options (some even smell like rum)!
And if you're a barber, you probably already have your favourite waxes, gels and sprays on hand.
But stay with us for a bit…
This article explains everything you need to know about hair pomades for men, based on our years of experience selling the stuff around Australia.
History of Pomade for Men
(it stands the test of time)
Let's take a time machine to the 18th century, when our ancestors used a concoction of mashed apples and animal fats to slick back their hair (in a bid to impress the maidens, no doubt).
This was actually the original pomade for men, would you believe?
Thankfully us modern blokes don't have to walk around with chunks of pureed food in our hair, just to make an impression.
We owe this debt to 20th-century innovators, who upgraded the formula to include ingredients such as petroleum jelly, lanolin and beeswax instead.
American actor Clark Gable (1901 – 1960) reading a script, circa 1955. (Photo by Archive Photos/Getty Images)
This improved version was a hit with the masses:
Gentlemen from the 1920s to the 1960s often wore their hair swept to the side or slicked back (with or without the quiffed locks). Think of Hollywood icons Marlon Brando, Clark Gable and Frank Sinatra.
Pomades were also used by the greasers, rockers and rockabillies of the fifties and sixties – with their big attitudes and even bigger hair.
One word: Elvis.
The Pompadour, Side-Sweep, Elephant Trunk, Mohawk and more. These shiny styles captured the imaginations of men and boys who loved good music, craved adventure and wanted to unleash their inner rebel.
There are even rumours that some fellas went as far as using motorbike oil to slick back their hair (please don't try this at home)!
As you can see, pomades have always been about so much more than hair.
Fast forward to the present…
Not much has changed, other than the formulas getting better.
What is hair pomade used for today?
Pomade is used in much the same way as centuries ago: to create intricate and sleek hairstyles with flexibility, texture and long staying power.
The beauty of pomade is that it doesn't dry out or stiffen your hair. This means that you can sport the wet or matte look all day, and even touch up or manipulate it with your fingers.
From the clean-cut sweep to the Pompadour: there's a strong revival of classic greased hair, as modern guys channel the likes of Gregory Peck and James Dean ("live as if you'll die today").
We love the more relaxed adaptations too; like the Faux Hawk, Subtle Undercut, Uppercut, Side Part Fade and Curly Undercut. A throwback to the edginess of bygone eras, but with a softer (and less shiny) feel that's often appropriate for work and play.
At the heart of it, pomade is about connecting to something larger than ourselves – a testament to tradition, while honouring your own style.
Gels are used to shape and sculpt hair of all lengths and textures.
However, we're not a fan, as they tend to leave hair feeling rigid, crunchy and unmovable (hard as a rock). The formula usually contains alcohol and chemicals, which damage the hair when used frequently.
Pomade formulas are gentler (no harsh chemicals or alcohol) and it's easy to restyle your locks through the day with fingers or a comb.
Wax works well for a messy look with lower shine, or for creating spikes. It's very similar to pomade (many actually contain wax), however pomades tend to make the hair more pliable for longer.
Hair should also be completely dry before adding wax, whereas pomades suit damp or dry hair. 
Pomade can be made using different formulas. Here are the different options
This is the traditional formula closest to what our grandfathers used. It typically features mineral or petroleum oil as the base, but may also combine nourishing ingredients such as beeswax, lanolin, or vegetable oils.
Hold: medium to strong (it can be easily moulded to create your desired style)
Sheen: medium to high
Pros: reach for this when you want a slick, traditional look that can be manipulated with a comb through the day. It's resistant to sweat and water, so you can step out of the pool still looking like an adonis. Also great for guys who don't want to regularly reapply the product.
Best suits: classic cuts, contours, side parts, pomps, solid quiffs and slick backs.
Be warned: if you're looking for a pomade that you can quickly rinse out, this isn't for you. The oil is water-insoluble, which means you need a few rounds of shampoo to remove it. This also isn't the best choice for fellas who have acne-prone skin, as the oil build-up can clog your pores if the pomade isn't washed out properly (we tell you how to wash it out further down).
This is probably the most popular option. There's a similar hold to oil-based pomades but with even more restyling flexibility, and it's easier to wash out of your hair.
Water-based pomades are available in different consistencies, depending on the look you're going for.
1. Water-based combo pomade (water and oil):
This could be the best of both worlds, as it contains some oil to condition the hair and scalp, but is a lot easier to manage than the oil-based formula.
Hold: medium
Sheen: medium
Best suits: classic cuts, contours, side parts, pompadours and slick backs
2. Water-based pomade paste:
The consistency is a bit thicker and drier than other pomades, and it's designed for styling your hair without adding shine. It's perfect for natural and casual looks – as though you just rolled out of bed with perfectly tousled hair. Set your hair once and forget about it all day (unless you want to restyle it). It's resistant to heat and humidity too!
Hold: medium to firm
Sheen: neutral
Best suits: classic cuts, contours, side parts, pomps, slick backs and textured looks.
3. Water-based cream pomade:
Grab this formula if your hair is on the thinner side and you don't want to weigh it down. It also works well for men with thick hair who want a natural, low-shine look.
Hold: light to medium
Sheen: neutral
Best suits: natural and textured styles
Hybrid Wax and Clay Pomades
Wax and clay is a winning combination. Why? This blend creates a dry hold (thanks to the clay) that's also rather pliable (this is where the wax comes in). It has some grit, so it's perfect for keeping hair in place but can also be washed out easily with shampoo.
Hold: light to medium
Sheen: matte
Best suits: natural and textured styles, as well as loose pompadours and classic matte looks
What type of hair is pomade good for?
Pomade can be used on all hair types. However, you may find that certain formulas work best for you – depending on whether your hair is curly, straight, thin or thick. Everyone is different and sometimes it takes a bit of digging around before you strike gold, but here's a general guide that may save you some hassle (and cash too)!
First, let's talk about length…
Short to medium length hair: most pomades are suitable
Longer hair: light hold cream and matte pomades 
Now we'll get into your natural texture…
Straight hair: a small amount of any pomade works well, especially those with a light to medium hold (oil-based, water-based, cream or matte products).
Curly hair: a clay and wax hybrid pomade will give you a slightly messy look that shows off your natural curl. On the other hand, stronger oil or water-based pomades tame the unruliness, if that's what you're going for.
Thin or fine hair: any matte pomade with a light hold, as you don't want to weigh down your hair. We recommend using a creme or hybrid clay pomade that adds texture. 
Thick hair: if you want to keep your sculpted hair in place all day, you need something with a strong staying power. Choose water or oil-based for a firm hold with medium shine. For a matte finish with ultimate hold, a paste pomade would be best. 
Pomade can be applied to damp or dry hair, depending on your mood and the look that you want to create. 
Dry application: the hold is stronger, with a textured finish and subtle (or matte) lustre.
Damp application: lighter hold with a smoother and shinier finish. 
Note: by damp, we don't mean dripping wet (it should be 90% dry, so use a blow dryer or towel first). 
Check out this video to see a visual demonstration (from 0:58):
How to use pomade: A demonstration using King Brown "premium pomade"
How to apply pomade to hair
1. Work a small amount between your hands and apply to dry or mildly damp hair starting at the back of the hair.
2. Apply the product back to front and side to side to ensure all the hair is coated root to end (avoid the scalp to prevent buildup). If styling damp hair, you can use a blow dryer to dry it into position. 
3.Increase the amount for adding hold, defining part lines and securing fly away hairs.
Remember, less really is more (at least at first). You can always add more to create that perfectly sculpted look, but it's a lot harder to remove the excess and start again without jumping into the shower first.
Also, if you're using a water-based pomade, you may need to restyle it with your fingers or a comb after 4 hours or so (as the hold isn't as strong as an oil-based product).
How to remove pomade from hair?
As a general rule, water and clay-based pomades come out with a single wash, but oil-based products require two to three shampoo sessions. Please don't take shortcuts when it comes to degreasing your hair. If you don't do this thoroughly, scalp problems may arise from oil and dirt buildup.
We can give you specific advice, based on our products:
You only need water to completely rinse out water-based pomades (paste and cream).
One shampoo is needed to remove clay pomades.
Two to three shampoos are needed to fully remove oil-based pomades. Don't forget to apply conditioner afterwards, to reintroduce some of the oils.
Note: this may be different for other companies, depending on their formulas.

Other methods you could try for removing heavy-duty oil pomades from your hair:
Add a water-based pomade to your completely dry (already greased) hair, let it sit for 15 minutes and wash it out with shampoo. The water-based formula will actually break down the oils in the traditional pomade, making it easier to wash out.
OR
Massage a generous amount of moisturising conditioner into your dry (already greased) hair, comb it through, leave for 15 minutes and then wash with shampoo.
Can I go to sleep with pomade in my hair?
Yes, you can, especially when you want to build up a style by adding a small amount of product the next day. You may be one of those blokes who can get away with degreasing once or twice a week and not have any problems (like clogged pores).
However, for the most part, it's probably best to wash the pomade out of your hair before sleeping. At the very least, you don't want to wait too long between washes as it's vital to let your scalp breathe.
Something else to consider: pomade transfers easily from your hair to the pillow, which can cause acne if you have sensitive skin. Spare a thought for your pillow too, which could probably do without the greasy stains.
Everyone is different, so experiment to see what works for you.
If you choose to leave the ointment in your hair but notice any irritation or flakiness, then resume daily washes. See how you go!
As for using pomade every day, there's no problem as long as your scalp remains healthy and you don't experience any acne. Having said this, it's better to err on the side of caution and give your hair a break at least once or twice a week (if you must wear it daily, use only a small amount).
How long does pomade last?
Shelf life:
your pomade should last for two years after opening it. Oil-based pomade can last even longer than water-based products. If you're unsure, keep an eye on the colour, smell and consistency and replace it if there are changes.
To make your product last as long as possible, make sure your hands are always clean before dipping your fingers into the tin (to avoid introducing bacteria). Also, store your pomade in a dry area with the lid on – away from moisture and steam. 
How long the product lasts until you run out:
How long your pomade will last depends on how much you use, and how frequently. As a rough guide, a 2.6oz tin should last one to three months before you run out. However, this timeframe will be longer if you're only using it on special occasions, or rotating between tins.
Where to buy pomade in Australia and New Zealand
At King Brown Pomade, we've been selling premium products since 2012.
Just like our mascot the King Brown snake, we're uniquely Australian. 
All of our pomades are formulated and packaged on Aussie soil, which means you're supporting local businesses (our prices stay reasonable too, because we bypass the trade disruptions that 2020 has come to be associated with). 
One other thing: we don't use plastic in our products. Our timeless aluminium tins are reusable…store whatever you like in them.
Browse our online shop if you're ready for your hair to behave as you want it to.
And if you're a wholesaler, apply here to sell our products.
Feel free to check out our Instagram @kingbrownpomade if you're looking for some hair inspo too.